Company History
Rooter Hero's heritage goes back to 1922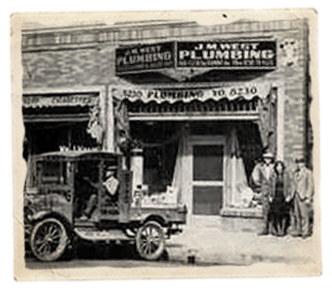 In 1922, James West borrowed on his insurance policy to buy a plumbing truck and open a small plumbing store.
In 1930, during the Great Depression, he purchased a building in Los Angeles on the corner of 76th and Vermont where he displayed plumbing fixtures and appliances. The business continued to grow through the 1930s, 1940s, and 1950s.
In 1955, James West sold his company to his son, Jim, who expanded the company by purchasing a second store in Lomita, California.
Both company store locations thrived despite economic hardships in Southern California in the 1960s, 1970s, and early 1980s.
Under Jim's strong management, bright orange trucks became a popular and recognizable symbol of stability and reliability among consumers and businesses.
1983 brought another change when Jim sold the business to his son Michael.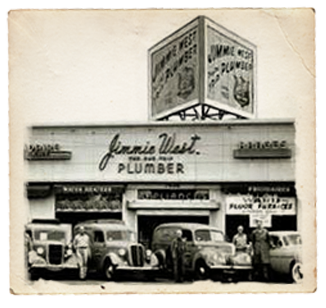 Mike West had worked in the business since an early age; one might say "from the ground up" during high school.
With a college degree in business management, Mike was enthusiastic about returning home to work at the family business once again. He obtained his journeyman's license and soon after, his contractor's license.
In 2010, Mike decided to start a new plumbing and drain cleaning company called Rooter Hero Plumbing.
With all of his experience in plumbing, managing a successful business, and having an entrepreneurial spirit, Mike knew that he would be able to offer his clients unbeatable services at unbeatable prices.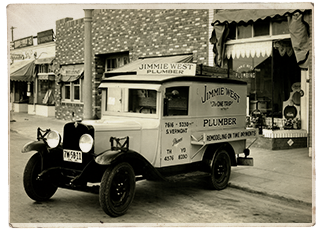 Mike decided to continue the family tradition of expanding that he had learned from his father and grandfather. So in 2011 he launched new operations to service Northern CA residents in the San Francisco Bay Area and East Bay Area, continue to grow their Southern CA coverage in Ventura County and San Gabriel Valley and expand into Phoenix AZ.
By 2012 Rooter Hero Plumbing expanded again in Los Angeles and San Fernando Valley.
Rooter Hero Plumbing's commitment to quality workmanship and customer satisfaction is still as strong as it was in 1922.